A dramatic island and custom surfaces created the "wow" factor in a recent kitchen re-design.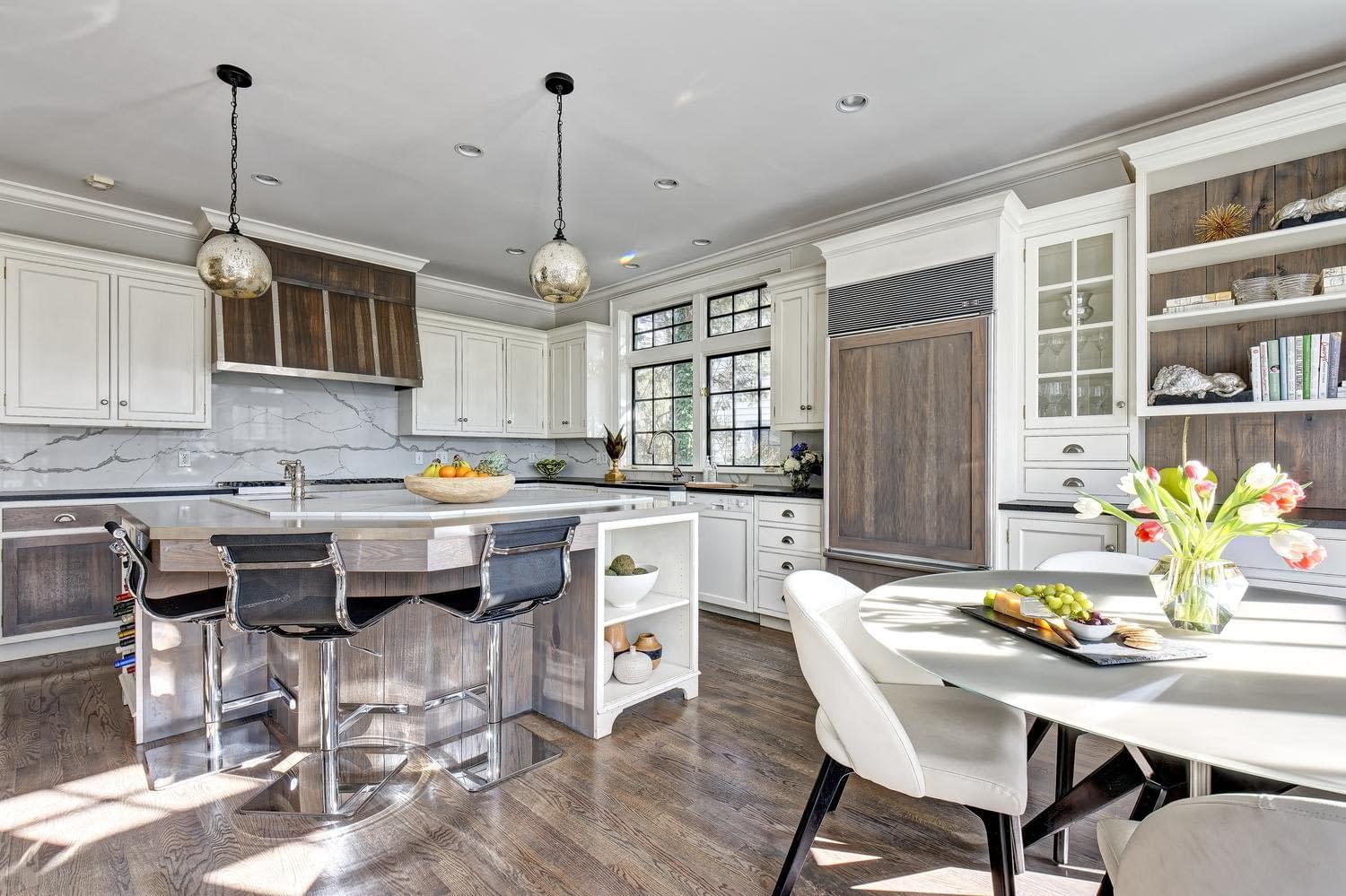 We were working on five major living spaces in a Greenwich Riverside, CT home that did not include the kitchen. However, knowing we could radically update the look without replacing the cabinetry and appliances, my clients were intrigued to see how our design ideas could unfold.
What really made this kitchen stand out from many others was the wonderfully large center island. However, the over-sized island felt too large-scale for the space, so this needed to be our first element addressed. To create a cozier atmosphere, we added dual height levels beginning with a counter-height stained hickory dining surface for the three counter stools. Adjacent to this we fabricated a dramatic bar-height quartz work surface, equipped with a small utility sink, for the largest and most visible portion of the island. Giving the island two levels with differing materials gave us the visual interest desired, while making the island itself feel less large and overbearing. The hickory island countertop was fabricated in Canada with special treatment that could even allow an accidental hot pan to be put on its surface without leaving scorch marks.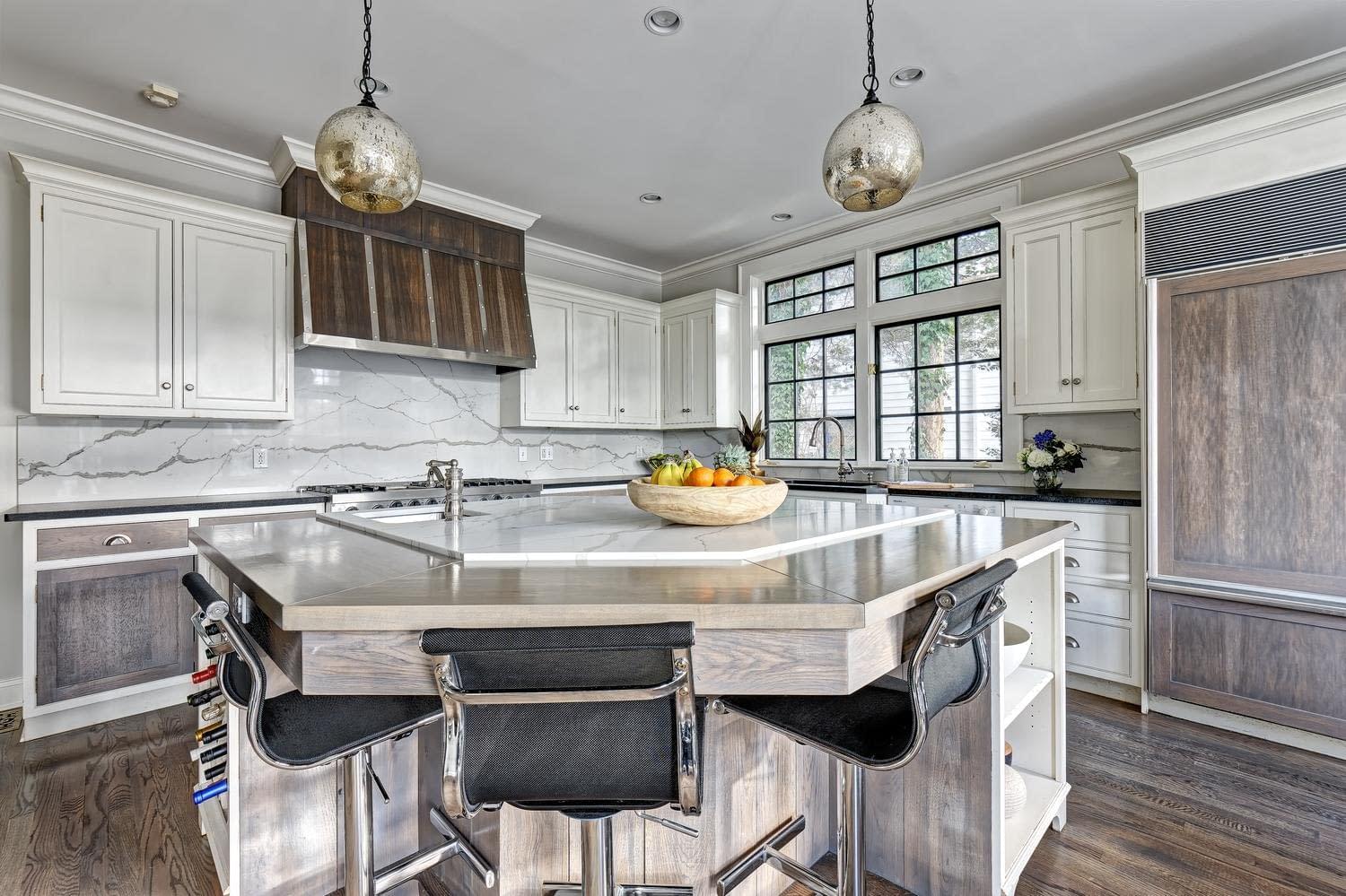 We then applied the same stained hickory to the vertical sides at the location of the counter stools. This is the grounding warmth or "feel" you notice as you walk into the home from the entrance.
The dramatic book-matched quartz backsplash was designed using the same quartz slab as the island. We then contrasted with a "leathered" absolute granite to the perimeter countertops for a textured, soft-black surface that mimics soap stone, but has a much more resilient wear.
The cabinetry was freshened up by repainting and updating their finish to a non-yellowing latex resilient white material. While the visual focal point and charm was created by adding hickory panels to a few well-placed door panels, drawers, the dishwasher and refrigerator faces, and completely custom designing a new range hood. Lastly, adding stainless steel hardware to the design of this hood along with polished nickel hardware to the cabinetry further enhanced a fresher appearance.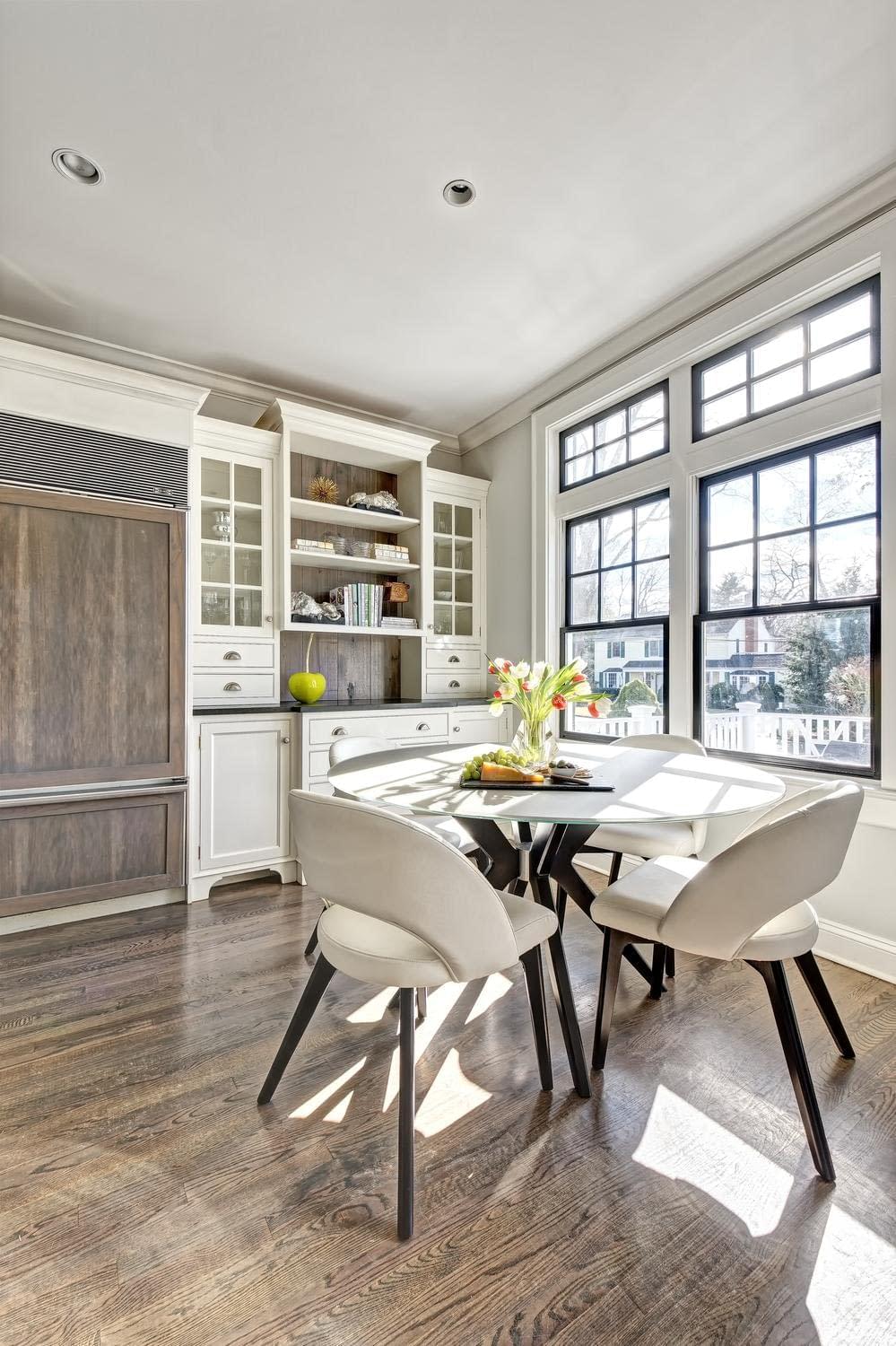 To create consistency throughout the first floor of the house, while re-designing the kitchen, we asked our Canadian dining surface fabricator to send us enough coordinating stain for the rest of the house's hardwood floors. Although the floor species was white oak and the counter was hickory, on site we were able to mix that stain along with a few others to achieve the perfect match and the cohesion we sought.