The BKI Experience
At Beth Krupa Interiors (BKI) we rely on international experience, design expertise and impeccable integrity to complete projects for a bold, traveled, collected, timeless interior space. Through empathetic listening our clients trusted the exciting solutions we created to allow them to live their best lives.
At BKI, our goal is to make the design-renovation process a transparent and enjoyable one for our clients. Experience has shown us that knowledge of systemized phases helps clients feel comfortable for the duration of the project.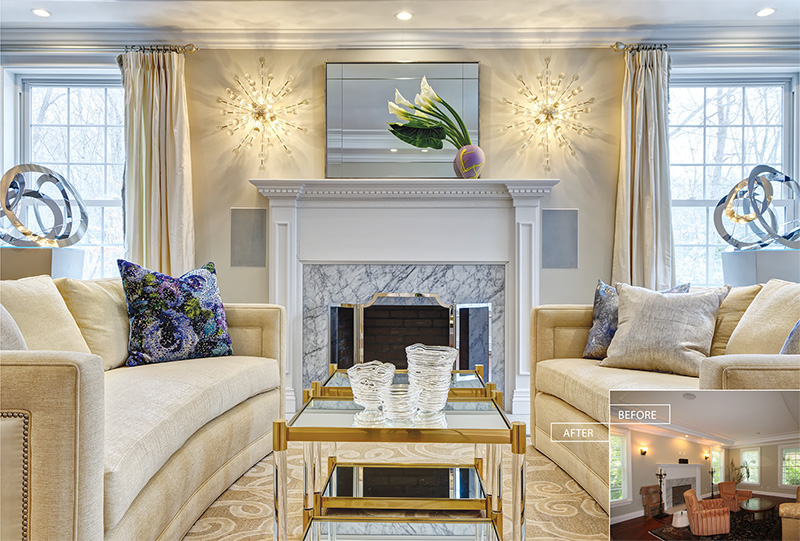 Here's how we work:
15 STEP PROCESS simplified in 3 KEY PHASES:
PROJECT INITIATION – PHASE I
STEP 1      Design Consultation:
Meet in person and discuss project goals
Review wish list
Share inspiration images
BKI overview
Learn our steps of service
Discuss Letter of Agreement
STEP 2      Contract & Retainer:
Review and Sign Letter of Agreement
Receive retainers (Design Fee & ongoing expenses)
Project Commitment
Review BKI processes, procedures, and policies
Measure and photograph as needed
RESEARCH, DESIGN, & PRESENTATION – PHASE II
STEP 3      Trades Day:
Meet individual trades for the purpose of procuring the necessary estimates and quotes needed to create the budget
On-site measurements, photos and final design assessments with contractors
Clients should be present for a good portion of the day
STEP 4      Design & Development:
Create drawings & plans
Source goods
Price trade services
Procure estimates
Compose presentations
8-week lead time
STEP 5      Presentations:
Create drawings & plans
Source goods
Price trade services
Procure estimates
Compose presentations
8-week lead time
PROJECT COORDINATION & FACILITATION – PHASE III
STEP 6      Order Placement:
Purchase goods
Order custom items
Finalize outstanding items
STEP 7      Project Status
Project review meeting *We can expect hiccups, delays, human error and moments we didn't plan for
Projected timeline
Assessment of delivery lead times
Tracking schedule in real time ensures arrival of goods
Align client expectations with future activity
Accuracy & thoroughness are more important than timeline
STEP 8      Renovation & Labor:
Commencement of renovations
Tradework begins
Millwork & Cabinetry
Electric
Paint
STEP 9      Renovation Wrap & Installation Prep:
Furnishings are received, inspected, and stored at our receiver and studio
Renovations are finalized
Install schedule is initiated
STEP 10    Furniture Installation & Styling:
This is where the magic happens. Furnishings, finishing trade work and styling come together to create The Big Reveal
STEP 11      Photo Shoot & The Big Reveal:
Our work is documented
We welcome you into your newly designed home!
STEP 12      Deficiencies Identified:
Walk Through
Identify issues (if any)
STEP 13      Deficiencies Resolved:
STEP 14      Final Invoicing:
STEP 15      Project Conclusion:
Client questionnaire
Client appreciation gift