Re-defining The Modern Luxury Home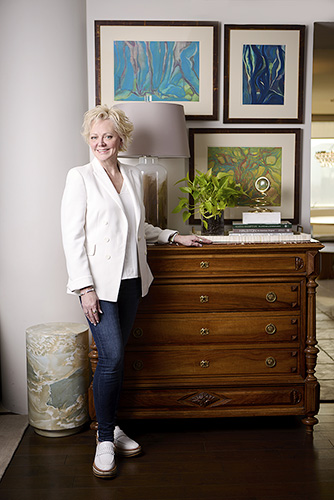 Beth Krupa Interiors (BKI) is a 3x national award-winning Interior Design firm combining vast international exposure through living and work, and 20+ years of design expertise with impeccable integrity. This global perspective is rooted in Beth's life experiences starting with her upbringing in the Chicago Midwest, then having lived and worked in New York City, Milan, Hong Kong, London, Bangalore, and presently Greenwich, CT.
She and her team's travels throughout dozens of countries continue to inspire her firm's bold designs by creating custom-curated and dynamic experiences within each space. The team's generous nature love seeing their clients thrive each time this goal is successfully accomplished. Their approach toward creative solution-seeking is a guiding philosophy that has earned them a top reputation in the field.
Exceptionally designed space requires empathetic listening; not only to what the client is saying, but also to what they are not saying:
"Having a degree in sociology has turned out to be a great advantage for knowing the right questions to ask. We get at the heart of the project during the initial planning stage because we care that no detail gets overlooked. This has been our successful formula and one that our clients have grown to value far above just an ability to put together a beautiful space. It really becomes design therapy as we guide them to look ahead and envision their future!" —Beth
To Beth, great style also requires restraint and the ability to edit well. It's true in fashion, where she led multi-faceted teams in NYC as a retail executive for 15 years with Bergdorf Goodman, Henri Bendel, and fashion houses Calvin Klein, NYC and Anteprima, Milan.
These qualities help the team achieve their goal to make the design-renovation process an extremely enjoyable one for their clients. A goal that is kicked off with enthusiastic collaboration, and then trusting that the design presentation meeting will exceed all expectations with a truly targeted individualized approach while employing the team's bold use of creative touches they have become synonymous with. This personalization and final vision are luxuries of their very own. From the initial consultation through closure, clients appreciate their systemized 3 phases, allowing them to clearly follow their project's linear progression, thus trusting all details are managed well by the BKI team.
"We find our clients are much more engaged and passionate in the initial planning stage than ever before. Our team feeds off of that creatively, thus producing even higher quality, individualized and distinctive spaces," —Beth
There is a deeper connection to the home than seen in the recent past as families have returned to the two lost luxuries of time and togetherness. Cutting edge home technology can aid in the communication of families and time-saving measures and this technology is always visually integrated or hidden in their designs. These aspirational, yet approachable, modern living spaces are designed to be as stunning to look at as they are comfortable and easy to live in.
"As a Designer I believe that holistic lifestyle design transforms not only one's home, but also one's outlook, resulting in living your best life," —Beth
Awards & Honors:
Voted Best Home Decor & Furnishings Greenwich 2023, Greenwich Lifestyle Magazine "Local Love Awards"
2022 HOBI (Home Builders & Remodelers Association of Connecticut) Award Winner – Best Foyer
2022 Home Accents Today Retail Star
2021 HOBI (Home Builders & Remodelers Association of Connecticut) Award Winner – Special Focus
Voted Best Interior Designer Greenwich 2021, Greenwich Lifestyle Magazine "Local Love Awards"
2020 – 2021 President ASID (American Society of Interior Designers) CT
Panelist, (Part II) Redefining the Luxury Lifestyle, New England Home Magazine w/HBRA & AIA, November 2020
Panelist, Sustainability; From Trend to Lifestyle, Aspire Design Magazine, Design Tour, October 2019
Panelist, (Part I) Redefining the Luxury Lifestyle, New England Home Magazine w/HBRA & AIA, July 2019
VIP Guest Speaker, Interior Design International Trends & Client Expectations, STYLE Bangkok, Thailand, April 2019
Judge, ARTs Awards, Dallas Market Center, January 2019
Haute Residence, Selected as 1 of 2 for Greenwich CT Interior Designers category, 2019
Top 10 Interior Design Studios in CT, Custom Home Magazine 2018
Interior Design Society, Designer of the Year (DOTY) 2015, 2016 & 2017
Best of Houzz, Customer Satisfaction 2014 – 2017
Top 100 Art Galleries & Designers, Blink Art Resource, 2017, 2018, 2019
Top 25 Connecticut Interior Designers, UK Magazine 2017
Beth is an active Board Member in the following:
2020 – 2021 President ASID (American Society of Interior Designers) CT
Advisory Board, Member, International Market Center's AmericasMart Home & Gift Show, Atlanta GA
Board of Commissioners, Member, DSSD (Downtown Special Services District), Stamford CT
Beth's Education and Affiliations:
Professional Graduate Certificate, Interior Design, Fairfield University, Fairfield CT, 2011
Bachelor of Arts, Sociology, Loyola University, Chicago, IL, 1988
Allied ASID & President ASID CT 2020 – 2021 (American Society of Interior Design), IDS Associate (Interior Design Society), HBRA Associate (Home Builders, Remodelers Association), GREEN AP (Member, Sustainable Furnishings Council), ART Member & 2019 Judge (Accessories Resource Trade)
Beth, alongside her design team, have a design studio and retail gallery at 19 E. Elm Street, Greenwich, Connecticut. Locally they service Fairfield, Westchester, and Manhattan Counties, but upon special request can make themselves available for projects nationally and internationally.
They can be reached at info@BKIstudio.com or 203-890-9292
                     Instagram: @BKrupaInteriors     Facebook: @BKrupaInteriors     LinkedIn: Beth Krupa