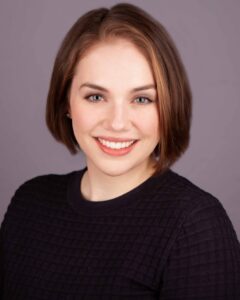 Kendall Callaghan

As Project Manager and Associate Designer, Kendall spends most of her days behind the scenes coordinating the thousands of small details that go into each project. Moving a project closer to its breath-taking finish by placing and expediting orders is what give her so much joy.
Her former life as a performance artist, her travels to 19 countries and counting and her previous work experience as a scheduler and project manager gives her a unique skillset. At Beth Krupa Interiors she is tasked with keeping clients updated, creating mood boards and renderings, as well as helping with on-the-ground decisions. She truly has the best job!
As Marketing Coordinator, Stefanie spends her days finding ways to showcase Beth and Kendall's beautiful work on social media, via the web and in print using both photos and writing.
Stefanie's personal design style is a bit like Restoration Hardware with some softer hues added to it. With two little ones running around performance fabrics have become vital to keeping her upholstery fresh looking. She is inspired by their ability to create living spaces that are both elegant and easy-to-maintain. She enjoys being able to share that with others.
Stefanie also manages the Stamford Moms website and social media pages. She previously worked in television both as a producer and reporter.