Val Bazan, Project Manager
Val was born and raised in Iran and received his BS in Residential Architecture from Tehran Azad University. Val joined Beth Krupa Interiors after 4 years as Showroom Manager at Safavieh in Stamford, where he managed a team of 7-9 interior designers. As BKI's Project Manager, he's most passionate about being involved in helping clients create their dream homes. Growing up, Val was surrounded by creative thinkers as his mother was an artist, and father, a real estate developer and engineer.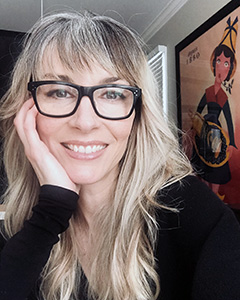 Noelle Destefano, Marketing & Operations
Noelle is a creative, highly organized self-starter with 25 years of experience in design, marketing, and communications. Always naturally artistic, Noelle was never without a pencil and sketchpad growing up. After working as a high fashion model in NYC in the early 90's, she transformed her creative talent into a digital career. From working in senior management for a technology company to starting her own creative firm in 2003, Noelle brings a wealth of artistic, technical, and leadership experience to Beth Krupa Interiors. When not at the computer, Noelle can be found on her yoga mat. She has made 6 long trips to India to study yoga and is an Authorized Ashtanga Yoga Teacher, a distinction held by only two people in Connecticut.
Sibel Ozcelik, Design Assistant
Interior design and elegance have always been a passion for Sibel throughout her life. She received her Interior Design degree from Fairfield University. Sibel's design philosophy reflects her life style: modern, functional, and chic! She loves sharing design ideas with colleagues and friends. She is a proud mom of twin girls. Cooking is a relaxing hobby for Sibel in her spare time. She is especially interested in cooking Mediterranean dishes and inviting friends over for dinner.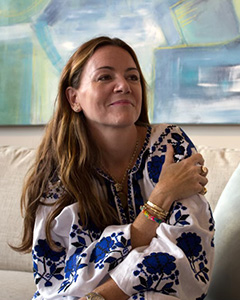 Sarah Dolce, BKI Home Retail Associate, Interior Designer
Sarah is a 12 year veteran of the design community and a love of furniture runs in her blood: her family has been a part of the industry for over 30 years. After graduating from Lehigh University, Sarah began her career going through the rigorous Buyer program at Saks Fifth Avenue. Sarah then went on to work in the Visual and Marketing department of Carolee Designs, Inc., honing the art of merchandising. After a brief "retirement" to raise her three young children, Sarah started her own design firm, Shea Dolce Interiors in 2011, jumping headfirst into a whole house construction project in Wyoming. A career highlight was successfully designing and launching a capsule collection of furniture for Chaddock in 2015.